Pieces of the Past
Artifacts, Documents, and Primary Sources
from Letchworth Park History

REMINDERS OF A SPECIAL PLACE
page 2
Here are some more "reminders" from Letchworth Park. Click here to return to page one.
The colorful fan shown below has a series of photographs including one of the Mt. Morris Dam. Like the other souvenirs we have shown here, the fan would served as a reminder of a special time the family once had in Letchworth State Park.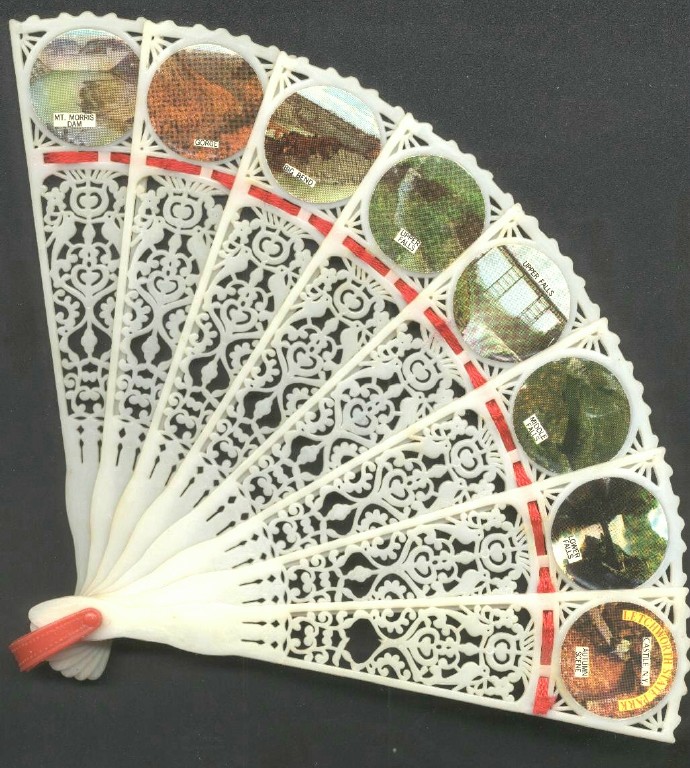 | | |
| --- | --- |
| | Images from the Park are also used to decorate this beautiful silk scarf. This may come from the late 1940's or early 50's. Notice that the dam is not shown. |
| | |
| --- | --- |
| This charm bracelot was probably purchased at the Park in the late 1950's or early 1960's. The charms symbolize some of the activities and emphasis of Park at the time. The skiier and pick up truck with camper shows the year round recreation offered by the Park, the fish and and deer reflects the wild life and nature. | The Indian head would present the history of the park, while the Maple leaf has long symbolized New York State Parks. |
Here are four more examples: The little iron skillet to the right is upside down to show the legs and the lettering which we feel is from prior to "State Park" becoming in vogue. It says "1-2 Spider on the handle.

The cup and saucer below show the Upper Falls and Portage Bridge, but has no identifying marks on the bottom. The saucer shows the Middle Falls.

The spoon has "Letchworth State Park" over the deer's head on the handle. On the bowl is the NY State outline and around it are pictured the Empire State Building, Niagara Falls, the UN Building and the Statue of Liberty.

The small pitcher has a lovely image of the Middle Falls, Letchworth Park NY. The bottom says "Made in Germany" and "Frank N Davis, Letchworth Park NY". He was there in 1946 according our interview of former Park employee Don Gibson.
The Lower Falls also appears on several early 20th century souvenirs. This cream pitcher is also marked on the bottom with "Made in Germany" and "Frank M Davis Letchworth Park New York".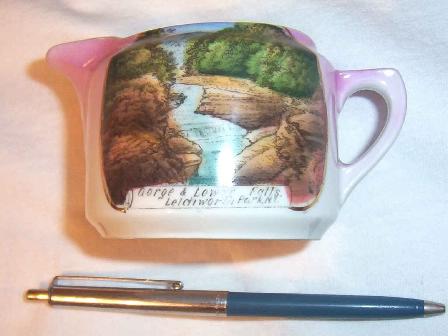 return to the first page
Also see Souvenirs from the Council Grounds and A Souvenir Booklet of Letchworth Park
Return to "Pieces" Index
Return to Table of Contents

All rights reserved by Tom Cook & Tom Breslin