1884, 1886, 1893, 1910, 1917, 1931,1959, 1968
---
February 14, 1884, reprinted in the Country Courier, Warsaw NY. 2/12/2009
"The St. Helena Bridge over the Genesee River was taken off by an ice flood on Tuesday night and taken about a mile downriver. It was a comparatively new built by the towns of Castile and Mt. Morris, and was supposed to be a substantial structure." (The bridge would be replaced.)
---
Thursday, June 3, 1886, Rochester Democrat & Chronicle, Rochester NY;
"The Grand Excursion and festival of engineers, at Portage Falls Park, on the 15th (?) it is expected will draw the largest crowd ever seen at this famous resort. Rev. Henry Ward Beecher will deliver the address at 2 o'clock P.M. Manager J.O. Prescott expects to run over one hundred and fifty cars to the Park from the different divisions of the Erie RR, and over a dozen bands will be present."
---
Saturday, May 20, 1893, Nunda News, Nunda NY;
"Hon Wm P Letchworth has changed his post-office address from Portageville, Wyoming County, to Portage, Livingston County. This is on account of the new post-office established at the bridge, which is nearer his residence. We are glad to take him into Livingston County where the prominent statesmen reside."
---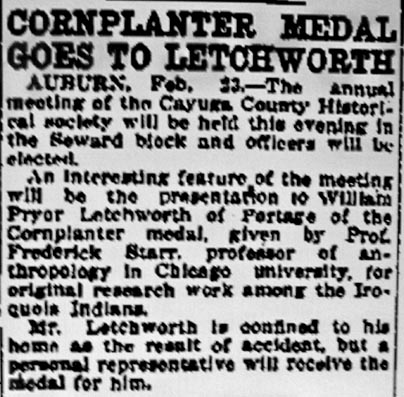 Announcement of Mr. Letchworth being awarded the Cornplanter Medal, Feb 23, 1910, Syracuse Journal, Syracuse NY;

---
May 30, 1917, Democrat & Chronicle, Rochester NY;
"2 o'clock ceremonies attendant upon the unveiling of the boulder and tablet took place at Inspiration Point. After a prayer by Dr Vail of Geneva ,the two flags concealing the boulder from view were drawn aside by Miss Isabelle Howland and Miss Caroline Bishop. The former, a niece of Dr. Letchworth and the latter for years his confidential secretary. Mr. Dow introduced W.J. Humphrey as the new president of the Association."
click to see additional information on this ceremony
---
September 15, 1931, Democrat & Chronicle, Rochester NY;
The Conway Farm was west of the Glen Iris and was acquired during Mr. Letchworth's lifetime. Note that his carriages were destroyed in the fire.
February 11, 1959, reprinted in the Country Courier, Warsaw NY. 2/12/2009
"Upon the death of Wolcott J. Humphrey, 81, on February 10, Warsaw lost one of its most prominent citizens. He was born in Warsaw on October 29, 1877 and became president of the Wyoming County Bank and Trust Company in 1902, and had served as president or chairman of the board of directors ever since. Humphrey also became the first chairman of the Letchworth Park Commission and of the American Scenic and Historic Preservation Society in 1910."
---
October 22, 1968, reprinted in the Country Courier, Warsaw NY. 10/2008
"The Genesee State Park Commission has announced that for the first time, a winter camping area will be opened to the public in Letchworth State Park. It is located near the Administration Headquarters on Lower Falls Road and is of the primitive type. There are no showers, electricity, or dumping station." (This was at the group camp area that was known in Mr. Letchworth's time as Chestnut Lawn Farm.)
---