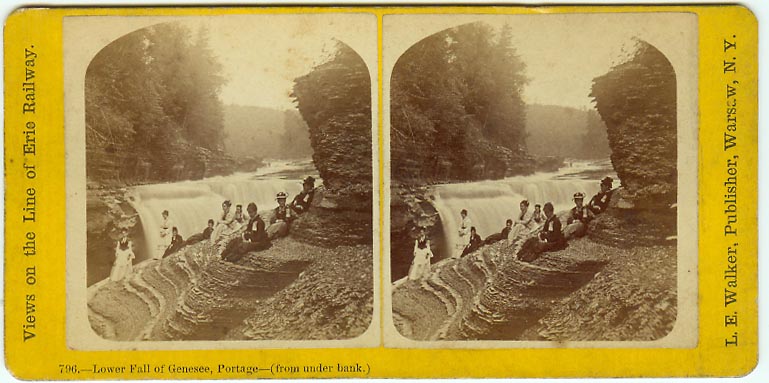 Stereoview
"796.-Lower Fall of Genesee, Portage - (from under bank.)
"Views on the Line of the Erie Railway."
1874
L.E. Walker, Publisher, Warsaw, NY
A group of young ladies have climbed "under the bank" on their trip to the Lower Falls - quite a feat given the clothing they have on. Behind them the Genesee River drops over the main falls into the "Flume" . Although the Flume can still be seen, some of the bank where they are sitting was removed in the 1930's for a trail and the bridge. See Image 61 for another view of visitors at the Flume and a modern photograph of the area.
This image became the cover of our book, Letchworth State Park. At that time Leonora Brown, Interpretive Program Assistant at Letchworth Park, provided us the following information regarding this photograph. Leonora writes that this image was taken...
"at the Lower Falls at Letchworth Park in September, 1874. The young lady at the far right of the photograph wearing a jaunty straw hat is Anna Letchworth, niece of William Pryor Letchworth, (daughter of his brother George). Anna and her classmates from the Howland College at Union Springs, NY are celebrating their graduation by spending several days at Glen Iris. One of the poems the wrote about their stay contains the lines:
We'll look to Glen Iris in grateful affection
And live our bright Portage days over again.
Our good host has journeyed to manhood's high station
The class only knocks at womanhood's door
But still we can honor with deep veneration
His generous kindness to "74"
Their names were Mary Mendenhall, Minnie Porr, Carolyn Ladd, Mary Allen, Abbie Fordyce, Bessie Love, Anna Letchworth , Marianne Ladd and Elizabeth Conkey.
Howland Academy was a "prep school" for young ladies founded by Robert Howland, a wealth Quaker merchant and friend of the Letchworth family. In 1863 he purchased a large home to be a Young Ladies Institute, later named Howland College to honor its benefactor. The school could house 100 borders and had a 'full collegiate curriculum' ".
This group can also be seen in images 33, 70, and 172.
Thanks to our friend Leonora Brown for her help!