Stereoview
"284 Gorge at Lower Falls"
Western New York Scenery Series
George Washburn, Castile N.Y.
circa 1875
This image was taken by Washburn from the east bank of the Genesee River near the base of Sugar Loaf Rock. The brave gentleman visible below center is looking up the Flume toward the Lower Falls that marks the beginning of this remarkable natural feature.
There has been a great amount of change in this area. Some of it has been natural as the falls have receded southward, shaping the gorge as it goes. (See the earliest sketch of the Falls found here.) Other photos in our Historical Photo Album show this change.
There has also been man made change. During the 1930s the Civilian Conservation Corps constructed the Stone Arch Bridge across the Genesee at the Flume. During the process both sides of the gorge was blasted away to allow for the construction of the bridge and its approaches. ( Photos of this process are found in the book "The Civilian Conservation Corps in Letchworth Park".)
Below: This wonderful photograph of the same area was taken by Nigel Peter Benson Kent on December 23, 2007. We thank Nigel for allowing us to use it on our website!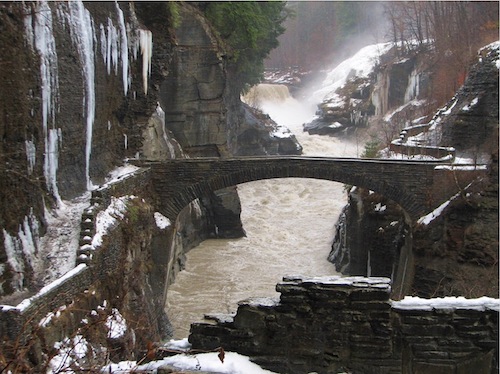 An enlarged view of Washburn's stereoview is found below. We have included the back label of the stereoview to the right. The fact that the Iron Bridge is described indicates that the view was published after 1875.