Pieces of the Past
Artifacts, Documents, and Primary Sources
from Letchworth Park History

The Glen Iris Estate in 1902
The 1902 atlas provides a detailed map of the Glen Iris at the turn of the century. This map, especially when compared with the original map (see the "Ornamental Farm") shows the development of the Estate from the original two hundred acres, to the thousand acres donated the State five years after this map was published.
The map is shown below in two parts. You will probably need to use your scroll bars to view the entire map!
This first section centers on the heart of the Estate. The building shown on the map just to the right of the "e" in "Home" is the Glen Iris. The extensive road and trail system and the Council Grounds are easily found.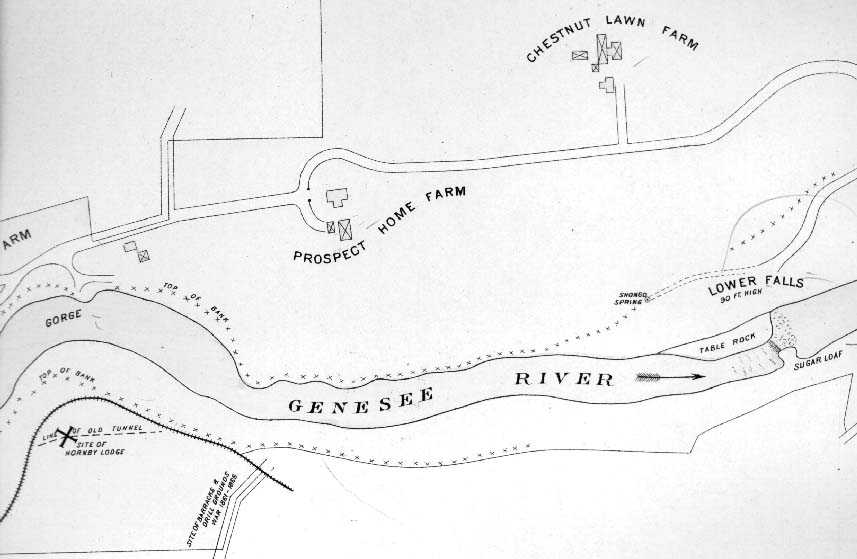 This section of the map most of the northern part of the estate. The "farm" labeled in the upper left is part of the Lauterbrunnen Farm. Note the locations of the Prospect Home and Chestnut Lawn farms.
For more information on the items on this map, we recommend you visit our Short History of Letchworth Park, and Glimpse of the GLen Iris
Source
Return to "Pieces" Index
Return to Table of Contents

All rights reserved by Tom Cook & Tom Breslin