Pieces of the Past
Artifacts, Documents, and Primary Sources
from Letchworth Park History

The Pike Mastodon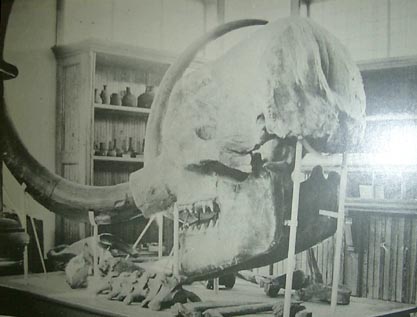 Photograph from the Genesee Valley Museum, circa 1900
The 1907 Guidebook to Mr. Letchworth's Museum stated that "it is hoped that, in time, nearly all the scattered relics of the countryside may be gathered here for better preservation..." Although that goal was never reached, one important "relic" that was preserved was the Pike Mastodon.
The Guidebook describes how the ancient bones arrived at the Park. "These remains of a mastodon (Mastodon Giganteus) were found in the summer of 1876 in cutting a farmland ditch on the farm of Charles Dennis, on the outskirts of the village of Pike, which is about seven miles from Glen Iris, and through which flows the Wiscoy Creek, one the tributaries of the Genesee River. The tusks were fortunately quite perfect, and with them were found a part of the skull, some vertebrae, and some of the foot bones. In order that these remains, which are of such scientific interest, should be properly preserved, they were at once purchased by Mr. Letchworth, who caused them to be mounted at the natural history establishment of Professor Henry A Ward in Rochester, New York. The prompt action taken in the matter resulted in the preservation of this valuable relic, which was retured to Pike and allowed to remain on exhibition in the Pike Seminary until the completion of the Genesee Valley Museum building in 1898. In 1904 the Seminary building was destroyed by fire. The most perfect mastodon discovered within the limits of the State of New York, of which record has been preserved, is the nearly complete skeleton found in 1866 at Cohoes, now mounted in the New York State Museum at Albany. The measurements of the Pike mastodon are as follows:
Length of skull, measured in a staight line from back to front - 43 1/2 inches
Length of tusks, measured along the lower curve - 96 1/2 inches
Greatest circumference of the tusks - 23 inches
The Mastodon can still be seen in the William Pryor Letchworth Museum today. As part of the Park's Centennial Celebration the Pike Mastodon has undergone a major restoration and is an important part of the new "Echoes of the Glen " exhibit at the Museum.
| | |
| --- | --- |
| Above and right; Pike Mastodon before recent restoration | |
Above: The restored Pike Mastodon as part of the new "Echoes from the Glen Exhibit"
Photos by Tom Cook
Source
A Guide to the Genesee Valley Museum, 1907
Return to "Pieces" Index
Return to Table of Contents

All rights reserved by Tom Cook & Tom Breslin