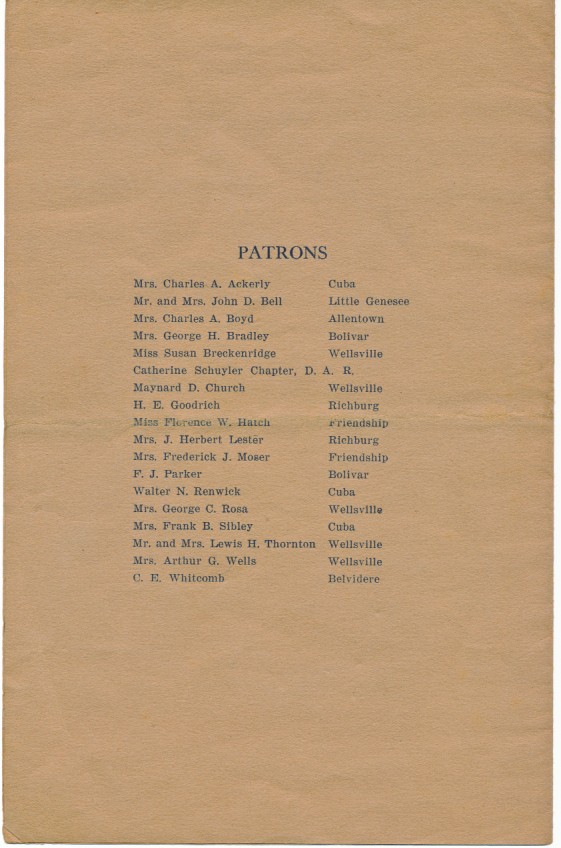 The Bolivar Breeze included an account of the successful program with an article on the front page of the weekly newspaper on August 15, 1929. "Pageant Recalls Early Indian Days...Incident in Mary Jemison's Life Portrayed by 54 Camp Dehgewanus Girls...Letchworth State Park, burial place of Mary Jemison, ' first white woman of the Genesee' again echoes with the voices of colonial days Thursday, August 8, when 54 young women from Camp Dehgewanus, near Angelica, gave in pageantry form incidents from her life. In twilight hour, with its flickering shadows and the flow of the sun on the eastern gorge, upwards of 5,000 heard Marion E Wesp, Hamburg, as the voice of the Genesee, and saw Katherine Rowe, Canaseraga, and Genevieve Clapp, Cuba in the dual roles of Mary Jemison portraying her youth and old age.... The State of New York sponsored the pageant as a part of the sesqui-centennial celebration this year which will culminate in a major pageant at Leicester, September 14."
The Leicester pageant dwarfed the Camp's production with an estimated 2000 participants and 20,000 to 40,000 in the audience.
Although it was smaller, the Mary Jemison Pageant is important to Letchworth's history, for it helped establish the practice of having special public events in the Park, an important part of the modern day Letchworth Park experience.