Pieces of the Past
Artifacts, Documents, and Primary Sources
from Letchworth Park History

Map of the Town of Portage
1872
The image below was taken from the Town of Portage Map found in the 1872 Livingston County Atlas. Although much of the land shown in the map was not part of the Glen Iris Estate, it later became an important part of Letchworth Park.
You can click on parts of the map to read the text or see a close up of the Falls Area or the Big Bend area. You can also go to the a copy of the text shown on the map.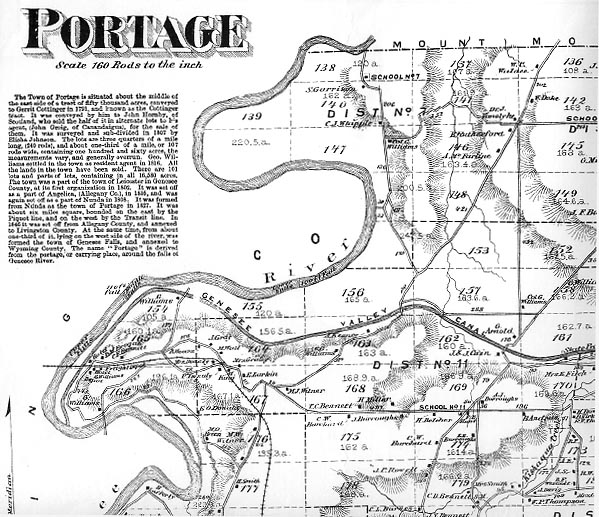 "The Town of Portage is situated about the middle of the east side of a tract of fifty thousand acres, conveyed to Gerri Cottinger in 1791, and known as the Cottinger tract. It was conveyed to him by John Hornby, of Scotland, who sold the half of it in alternate lots to his agent (John Greig, of Canandaigua), for the sale of them. It was surveyed and sub-divided in 1807 by Elisha Johnson. The lots are three quarters of a mile long, (240 rods), and about one-third of a mile, or 107 rods wide, containing one hundred and sity acres, the measurements vary, and generally overrun. Geo. Williams settled in the town as resident agent in 1816. All the lands in the town have been sold. There are 101 lots and parts of lots, containing in all 16,580 acres. The town was part of the town of Leicester in Genesee County, at its first organization in 1802. It was set off as part of Angelica, (Allegany Co) in 1805, and was again set off as a part of Nunda in 1808. It was formed from Nunda as the town of Portage in 1827. It was about six miles square, b ounded on the east by the Piquot line, and on the west by the Transit line. In 1846 it was set off from Allegany County, and annexed to Livingston County. At the same time, from about one-third of it, lying on the west side of the river, was formed the town of Genesee Falls, and annexed to Wyoming County. The name "Portage" is derived from the portage, or carrying place around the falls of the Genesee River."
Source : 1872 Atlas of Livingston County, page 37.
Return to "Pieces" Index
Return to Table of Contents

All rights reserved by Tom Cook & Tom Breslin