Pieces of the Past
Artifacts, Documents, and Primary Sources
from Letchworth Park History

William Pryor Letchworth left his mark not only on the Park, but on many local communities as well. His contributions including his time, talents, and money to projects and organizations, and, as we discovered, some other items including at least one sundial!
Near the entrance of the municipal building in the Village of Wyoming, just north of Warsaw, NY, is a unique gift from the Letchworth Family. Here is the information we have gathered on this Piece of the Past!
The Wyoming Sundial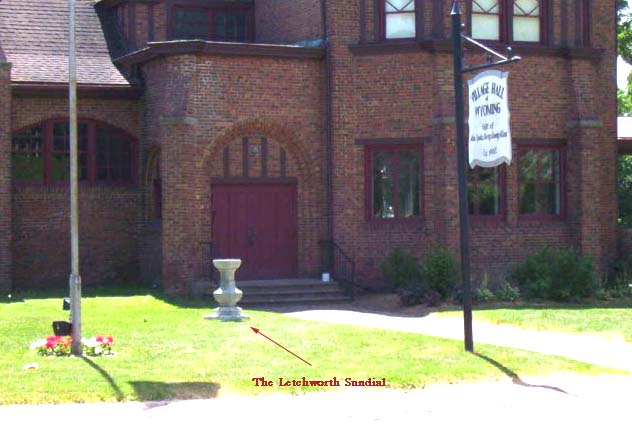 Photo by Tom Breslin
The Photo above depicts concrete pedestal with a sundial on top that was donated to the Village of Wyoming by William Pryor Letchworth and his brother Josiah. We feel it is a very unusual item because we know of no other instance of the brothers acting together in such a project. The sundial was recently re-erected after being broken and stored in the basement of the building for an unknown period of time.
Research by the Historic Site staff at Letchworth Park turned up this article from the Wyoming County Gazette:
"Hon. William Pryor Letchworth of Glen Iris, Portage and
Josiah Letchworth of Buffalo, have recently presented to Village Hall, Wyoming, a sun dial, which now stands on the hall grounds near the walk leading to the main entrance. It is set in a concrete foundation four feet in depth. The words on the side of the sundial are "They pass and are recorded."
There is another inscription on the base that is very worn and difficult to read. Recently, through the efforts of Tom Breslin, a granite marker has been added that gives the original inscription and marks the important connection between the sundial and the Letchworth Family.
The new marker reads " Given by the brothers William Pryor Letchworth and Josiah Letchworth 1908".
Photo by Tom Breslin
Photo by Tom Breslin
We thank the Park History Staff for their help with this information, and invite any visitors who have additional information regarding Wyoming's Sun dial to send it!
Return to "Pieces" Index
Return to Table of Contents

All rights reserved by Tom Cook & Tom Breslin