Pieces of the Past
Artifacts, Documents, and Primary Sources
from Letchworth Park History

Portrait of Moses Van Campen
by John Phillips , 1846
Wm Pryor Letchworth Museum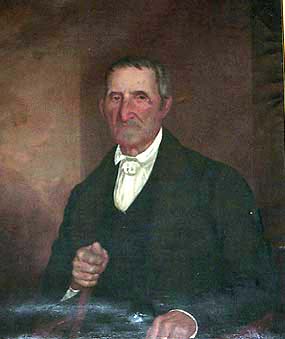 The following description of the Portrait is taken from Howland's 1906 Guide:
Over the fireplace, the eye is attracted as one enters the Museum (on the Council Grounds) by the excellent portrait of Major Moses Van Campen, whose fame as a sturdy pioneer and fearless Indian fighter is so intimately associated with the history of the Genesee Valley.
(for more on his history, see the Glimpse of Moses Van Campen)
The portrait represents him in the sturdy health of approaching age, and was a treasured possession of his grandson, the Reverend John Niles Hubbard, of Tracy, California, who wrote The Life and Times of Major Moses Van Campen republished in 1893 with the valuable notes and additions of its editor, Mr. John S. Minard, of Fillmore, New York.
The Portrait was presented to Mr. William Pryor Letchworth in 1899 by Mr Hubbard's widow, Mrs Margaret McDougal Hubbard, of Tracy, California, who wrote to Mr. Letchworth November twentieth, 1899 : 'I have a very good portrait of Major Moses Van Campen, taken when he was ninety years of age, by Mr. Phillips, who was thought to excel as an artist at the time it was taken. There is but one great-great-great-grandson in our line of family, and as my life journey must be nearing the life boundary, I feel that I should, while in health to attend to it, see that this portrait is taken care of by some one who will value it; and I would like to have it place in the Genesee Valley Museum if you approve of my plan.'
In reply to an inquiry made by Mr. Letchworth, Mr John Phillips wrote from New York City, October 30, 1878: " I painted a portrait of Major Moses Van Campen at his house in Dansville in the fall of 1846, kit-cat size, 29 x 36 inches. In reply to your question ' Did you satisfy yourself in the work? ' I will say that his portrait was executed when I had little practice in art, but the subject was one calculated to raise me far above my ordinary efforts, and hearing the old man grow eloquent on memories recording deeds of personal daring and danger, the incentives towards the higher effort were constant. There was great vigor expressed throughout the whole man. His was an individuality that reminded me of the very ideal of hardihood backed by a practical, subtle intellect and an iron will. My aim was to delineate truthfully this man's sturdy individuality, and as far as I was able then I was successful. In the crude likeness I satisfied myself, but in those qualities that suggest long culture in art and make a picture as well as a portrait I felt myself wanting. "
(Guide pp 3-5)
Several other artifacts from the life of this remarkable man is also on display at the Museum.
Return to "Pieces" Index
Return to Table of Contents

All rights reserved by Tom Cook & Tom Breslin