As a child, our parents with the four kids, often plus a friend or two, made an annual fall visit to Alleghany State Park. Those memories of the 1950s and 60s treks are rich, warm, varied and are treasured by each of us.
When our son was born we had moved to the Rochester area and Letchworth was much closer and his Dad and I had investigated it randomly for years. When Rick was a toddler we began our own similar tradition with an annual fall visit to Letchworth.As he grew, so did our adventures thru the late 70s, 80s and 90s.
We have particular trails we 'must' trek, one location that gets a new year carved into the side of a towering tree to mark our passage on each visit. Counting the stairs to return up from the gorge still helps us to take 'one more step'.We have floated toy boats down the 'rills' in races, flew gliders off the precipices, watched balloons loft in a mist, and always fire up a grill for a hot picnic lunch in the park.
Rick was a train buff from his very early days and every year we have climbed the trestle and waited for a train to pass, shivering and quaking the bridge beneath our feet. As the years passed he brought different buddies to share the day, play catch, or accompany climbs to other points that Dad and I didn't venture out to, but rather took pictures of for the album. In his teens the 'buddy' became the current girlfriend, and the carving tree has added hearts and various names. For the past 6 years Dad and I have been accompanied by Rick, his wife, Mandy and our twin granddaughters, Jaime and Autumn.
If it's cold on our designated trip day we bundle up, bring extra charcoal and blankets, some firewood and find a corner of a shelter along our tour where we can put a fire in the fireplace, cook our burgers and continue to build the tradition for the next generation.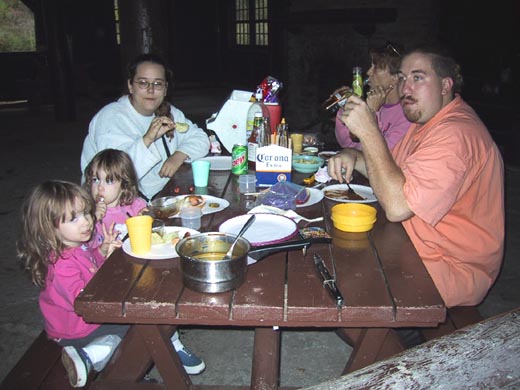 If it's a warmer sunny day we glory in the colors, catch frisbees in the open area and trek the familiar trails. We'll be making that trip again this October, 2006
(Photo - here's one digital we can find from several years ago - 2001- twins were about 2 1/2, this year they are 7 1/2 our picnic under the shelter, I think at the area called Middle Falls where there was a small refreshment stand and a large open area, swings/slide and restroom.)

Elaine & Hal, Webster, NY