The Fancher Family in the Genesee area
by Caroline Beyer
It is often recorded in our country's early history that as one family moved to unsettled territory, others soon followed. The Fancher, Clark and Davis families moved from the coastal areas to Providence (or Galway) in Saratoga County, New York, when there was a demand for masts for the tall ships. If you had visited the area in the early 1800's at one crossroad, you would have found all three families. As the need (or availability?) of these massive timbers in the Providence area diminished, like so many early settlers, the families chose to move to greener pastures.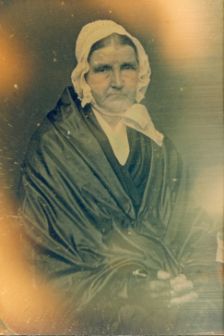 This wonderful photograph of Urania Clark Fancher is used with permission of the Beyer Family. Please note that in the earlier printings of our book Letchworth State Park we incorrectly attributed this photograph to Letchworth State Park.
Asel Fancher married Urania Clark in 1806. They had five daughters. The oldest, Betsey, married Abner Hall and later moved to "the Michigan". The second daughter, Sarah, married Job Davis, son of neighbor Pardon Davis in 1829. Job and Sarah moved to the Genesee area in 1840 leaving Pardon in Providence. Job and Sarah later moved with their three children to Jamestown, New York where Job served as Justice of the Peace for almost 30 years. The third daughter, Lydia, married Job's cousin, Anthony Davis. Anthony operated a furniture factory on the banks of the Genesee until he and Lydia moved to Amsterdam with their daughter, Victoria. The youngest two daughters, twins, Polly and Ruth, remained in the Portage area with Urania and Asel. Ruth was married twice. She lost her first husband, Rial M Botsford and their only child, Jimmie at an early age. Ruth later married Ira Waite. Polly married Amaziah Jenkins, reportedly a brilliant but very disagreeable person. Asel and Urania with Polly and Ruth moved from Providence to the Genesee area in 1841. In May of that year, Urania purchased property near the middle falls and became established as a weaver. Cloth, carpets and coverlets were woven for family and area residents using the loom that until recently had been on display in Nancy Jemison's cabin in Letchworth State Park.
The Fancher Loom as it appeared in the Nancy Jemison Cabin in 1988. Photograph by Bob Beyer.
In one letter to her sister Sarah, dated January 2, 1885, Polly writes: "Took Mrs. Reese's work off the bars and seamed it …. as I write the cold takes rite hold of me." There is a story that Urania as a matriarch of the village was invited with one other elderly lady to accompany William Letchworth on the first railroad cars to cross the 1852 high bridge over the Genesee River.*
Such was the Fancher family in the Genesee area. Close knit, hard working, of great faith, loving and well respected even though Asel in his later years was reported to "tip a bit too much". Asel Fancher died in 1863, Urania in 1874 and they are buried in Pioneer Cemetery with many other family members. Urania's property was sold by her heirs to William Letchworth in 1889 for $675.00.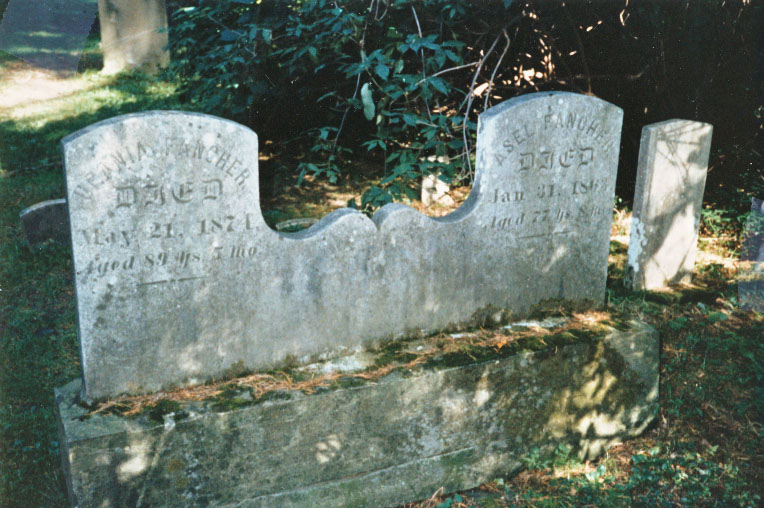 The graves of Urania and Asel Fancher in the Pioneer Cemetery at Letchworth Park.
Photograph by the Beyer Family
*Family stories can sometime pose a mystery. Bonnie Beyer shares the story of Urania Fancher and Mr. Letchworth on the Portage Bridge as it was passed down through the Fancher/Davis family, but knows that William P Letchworth wasn't in the area at the time of the completion of the Portage Wooden Bridge in 1852. As she points out, Urania had died before the bridge burned and was replaced by the Iron Bridge. So is there any truth to the story? We believe so. One strong possibility is that Urania did ride on the first passenger cars to cross the Wooden Bridge, perhaps with other local folks and area dignitaries. Mr. Letchworth, who by a decade later was a friend and neighbor to the Fanchers, was inserted in the story by later generations. The story, and other similar stories treasured by local families add life and color to the history of the Park. (T. Cook)