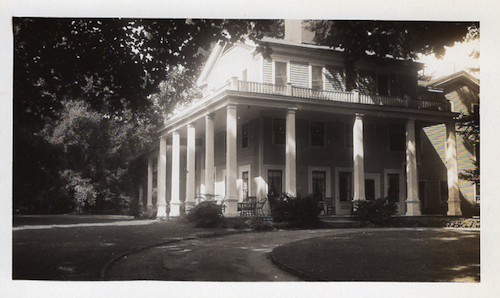 Above: The Glen Iris from the driveway. Again, we are not sure if this is taken at the same time as the above photographs.
Below: The two photographs below are on the Glen Iris, probably in the 1940s. Here are the comments by our friend Ted Bartlett, an authority on Letchworth History"
Left: "On the Piazza with mostly his (Mr. Letchworth's) porch furniture....The rocker in the foreground is in the museum basement. It is before the 1957 changes to the Library when the book cases were removed and the shuttered windows opened up. Also still wood floor on the Piazza."
Right:" ...looking through the hallway into library with those areas set up with furniture...also 1913 chandelier in the parlor. That is the same wallpaper in a circa 1940s photo, as I remember...."